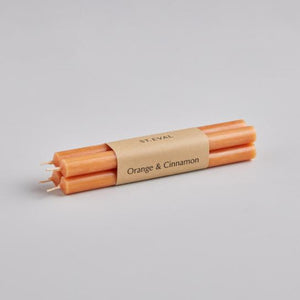 These Orange and Cinnamon scented, orange mini candles make perfect little gifts. Orange and Cinnamon is a warm tangy fragrance with hints of spice.
Made by British company St Eval, these candles are made from a mixture of mineral and vegetable waxes and do not contain any animal products. 
These candles are 1/2"x6"  and have a burn time of up to 3 hours.
Sold in packs of 4.