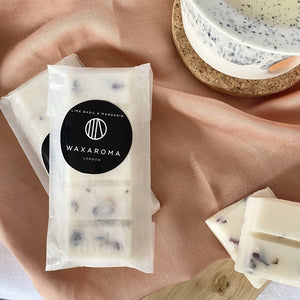 This soy wax melt bar has a fruity, herbal scent whilst keeping it's citrus body. It lights up any room you put it in and will instantly refresh it. This candle also relaxes and calms you, making your whole home feel at peace. Each ingredient really comes threw as it buns exuding an almost heavenly scent.
Made by small business Waxaroma these wax melts are vegan and created to ensure long lasting scents, all containing dried botanicals.
Bars weigh 50g, snap a section off the bar and simply place onto your burner. Waxaroma recommend using a piece of the wax melt for 3/4 uses, but you can use each piece until there is no longer any fragrance.