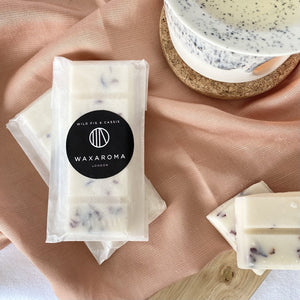 This soy wax melt bar has top notes of cassis, cherry, grass and fig; middle notes are hyacinth, cyclamen, jasmine and pine tree; base notes are patchouli, cedar, amber and musk. A classic high quality fragrance.
Made by small business Waxaroma these wax melts are vegan and created to ensure long lasting scents, all containing dried botanicals.
Bars weigh 50g, snap a section off the bar and simply place onto your burner. Waxaroma recommend using a piece of the wax melt for 3/4 uses, but you can use each piece until there is no longer any fragrance.